How to Read to a Grandma and Grandpa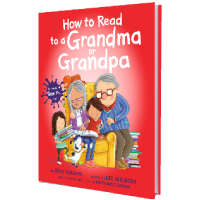 From the creators of the New York Times bestsellers How to Babysit a Grandma and How to Babysit a Grandpa comes a fun and exciting way to share the joy of reading with grandparents.
Now that you know how to babysit your grandma and grandpa, it's time to teach them how to read with you! In this hilarious new addition to Jean Reagan and Lee Wildish's bestselling How to... series, the kids are in charge! Kids can show their grandparents how to choose a great book, find the perfect spot to read together, and use their best reading-out-loud voices. Even after the book is done, there are lots of activities that kids and their grandparents can do together!
Filled with charming role-reversal humor, creative ideas, and heartwarming moments, this ode to shared storytime is sure to delight kids, parents, and grandparents everywhere.
AN ENTHUSIASTIC REVIEW FROM KIRKUS