How to Get Your Teacher Ready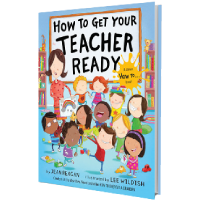 From the creators of the New York Times bestsellers How to Babysit a Grandpa, How to Babysit a Grandma, and How to Catch Santa comes a charming new how-to book about . . . your favorite teacher!
This humorous new book in the beloved HOW TO . . . series takes readers through a fun and busy school year. Written in tongue-in-cheek instructional style, a class of adorable students gives tips and tricks for getting a teacher ready—for the first day of school, and all the events and milestones that will follow (picture day, holiday concert, the 100th day of school, field day!). And along the way, children will see that getting their teacher ready is really getting themselves ready. Filled with charming role-reversal humor, this is a playful and heartwarming celebration of teachers and students, and the perfect gift for back-to-school readiness or graduation.