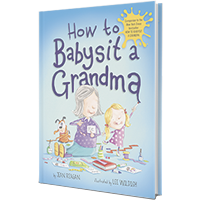 When you babysit a grandma, if you're lucky . . . it's a sleepover at her house!
And with the useful tips found in this book, you will become an expert grandma-sitter in no time, including:
How to keep a grandma busy
Things to do at the park
Possible places to sleep, and what to do once you're both snugly tucked in for the night
From the author-illustrator team behind the bestselling How to Babysit a Grandpa comes a funny and heartwarming celebration of grandmas and grandchildren.
---