How to Scare A Ghost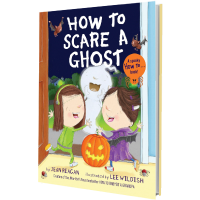 From the creators of the New York Times bestsellers How to Babysit a Grandpa, How to Babysit a Grandma, and How to Catch Santa comes a charming new how-to book about . . . Halloween Ghosts!
Who says ghosts get to have all the fun on Halloween? In this humorous new addition to Jean Reagan and Lee Wildish's bestselling How to…books, the kids are in charge! But in order to scare a ghost, you might have to find one first. Guided by a tongue-in-cheek instructional style, two children show young readers how to set the stage for a spooktacular Halloween by carving pumpkins, playing games, and even reading scary stories. Has a ghost showed up? Great! Now the fun—er, the scaring—can really begin. Filled with charming role-reversal humor, creative ideas, and lots of holiday spirit, How to Scare a Ghost is sure to delight kids, parents, and things that go bump in the night.