Always My Brother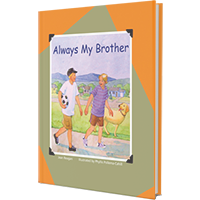 My son, was an absolutely delightful young man. John Reagan Philips' death from a drug overdose at age nineteen devastated our family and our broader community. ALWAYS MY BROTHER portrays a parallel journey of grief and attempts to offer understanding and hope to others suffering from such a loss.

Sibling death is often considered the unrecognized grief. Surviving siblings are sometimes even admonished to be "extra good," because their parents are grieving. In ALWAYS MY BROTHER I wanted to honor siblings for the devastating loss they face with the death of their brother or sister.

This book does not exactly mirror our own family's story. Yet it does tap into the emotions and experiences of our loss.
---
For the grieving child or family I wanted to
portray and affirm their often confusing, contradictory emotions.

offer realistic hope that with the passage of time the gripping, paralyzing pain would ease as the family members cherish and honor their loved one.

create opportunities for shared conversations.
When a surviving sibling read my manuscript and said, "This was me," I knew this book could be a helpful, healing resource.)
For friends, extended family, classmates, and teachers observing the grief I wanted to
provide a window for them to see and better understand the internal grief.

create opportunities for conversation.

foster courage in them to reach out to the grieving child or family.
On a personal level, I wrote this book because I wanted my daughter to understand that at some level I comprehend the utter devastation of her loss. (For example, she instantly became an only child. And, given our ages, while Peter and I lost John for perhaps 30 to 40 years, she lost him for 60 to 70 years.) I also wanted to convince her (and my husband and myself) that the gripping, paralyzing pain immediately following John's death would somehow lessen, even as we continue to honor and cherish his memory.

One unexpected joy I experienced in writing this story was that I could rewind John's life to a younger, happy and healthy period before he was tortured by drug addiction. This experience was, of course, tinged with a bittersweet sadness, too.

My deepest hope is that ALWAYS MY BROTHER will help lessen the overwhelming pain of a sibling's death by creating opportunities for families to share the pain, rather than to experience it in lonely isolation. This possibility gives me joy.